Monday, March 20, 2023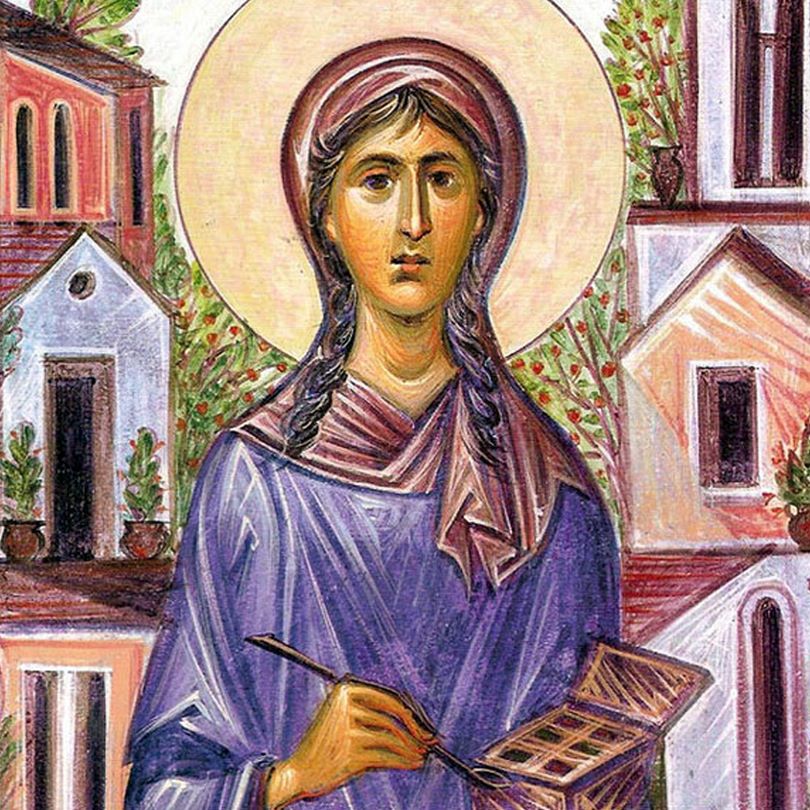 Born in Caesarea of Palestine early in the first century, St. Hermione was one of the four daughters of St. Philip the Deacon; she is mentioned with her sisters as prophetesses in Acts 21. Hermione studied medicine in Caesarea, and after her father died, traveled to Ephesus to seek out St. John the Evangelist. Unfortunately, by the time she arrived St John had also reposed, so instead she joined the ministry of St. Petronius, a disciple of the Apostle Paul.
St. Hermione bought a house and founded a medical clinic, devoted to the treatment of the ill, poor, and the homeless. Joined by her sister Eukhidia, she added rooms to expand the ministry and increase their capacity to house and heal the needy. Thus was established the first of those hospital-hostels, or xenodokhia, which would become so much a part of the Orthodox Christian tradition.
Hermione's gifts of healing and prophecy eventually came to the attention of the Roman Emperor Trajan, who sought her help, assuming she was a sorceress. When he discovered she was a Christian, he unsuccessfully tried to convince her to renounce Christ. When he saw that she would not recant her faith and that she bore torture with patience and courage, he let her be. However, Trajan's nephew Hadrian––who succeeded him on the throne––was not as merciful. Tradition describes a horrific list of tortures that Emperor Hadrian used to get her to renounce her faith. However she remained steadfast and he eventually resorted to beheading. Before she died, her two executioners, named Theotimus and Theodoulos, were briefly paralyzed and Hermione healed them. They knelt at her feet and were converted to Christianity.
St Hermione is commemorated in the church on September 4.
Prayer for St. Hermione from the Orthodox Church in America:
As the fruitful offspring and unfading flower of Philip, renowned among the holy Deacons, you received divine grace, O most wondrous Hermione; and you contended as a virgin, offering your pure struggles to Christ our God Who glorified you.
Holy Mother Hermione, pray to God for us!
Icon of St Hermione by Charalambos Epaminonda