Thursday, November 9, 2023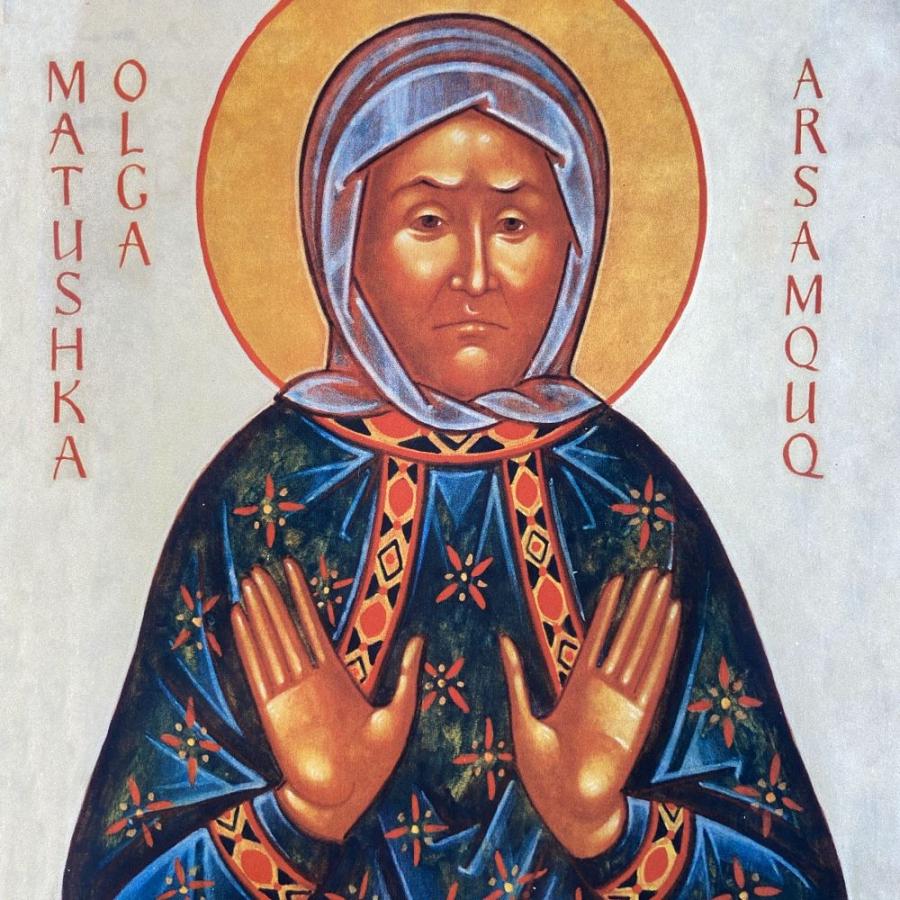 The Holy Synod of Bishops of the Orthodox Church in America has issued a proclamation this week on the Glorification of the Righteous Servant of God Matushka Olga, making her the first female saint of North America.
In his November 2, 2023 letter to His Beatitude Metropolitan Tikhon, His Grace Bishop Alexi states: "I am writing to Your Beatitude with respect to the departed handmaiden of God and faithful Orthodox Christian, Matushka Olga Nicholai of Kwethluk, known by the pious peoples of the Kuskokwim as Arrsamquq. Her humility, her generosity, her piety, her patience, and her selfless love for God and neighbor were well-known in the Kuskokwim villages during her earthly life. Her care for comforting the suffering and the grieving has also been revealed after her life by grace-filled manifestations to the faithful throughout not only Alaska, but all of North America. The first peoples of Alaska are convinced of her sanctity and the great efficacy of her prayers."
Matushka Olga Michael, wife of the departed Archpriest Nikolai O. Michael from the village of Kwethluk in Alaska, was born in the Yup'ik tribe and given the name Arrsamquq. Though Olga was poor, she shared her family's food and possessions generously with others and seemed to intuitively predict which children were hungry or needed clothing, which children or women were suffering abuse, and when women were pregnant and needed extra care. Her children recall sometimes seeing other children wearing their clothing, which Matushka Olga had given away. Occasionally, she would place food in her window in order for it to be "stolen", knowing that a particularly hungry child was walking by.
"She was constantly sewing or knitting socks or fur outerwear for others," Fr. Oleksa writes. "Hardly a friend or neighbor was without something Matushka had made for them. Parishes hundreds of miles away received unsolicited gifts, traditional Eskimo winter boots ('mukluks') to sell or raffle for their building fund. All the clergy of the deanery wore gloves or woolen socks ... [which she] had made for them" (p. 203).
"I've always thought if there is anyone I've known in my lifetime who would be glorified as a saint, it would be Matuskha Olga," Oleska said.
Matushka Olga was also a midwife and had a particular gift for caring for abused women. She would invite women into the privacy of a traditional Yup'ik steam bath, creating a space for intimate conversation. Many recount that during these vulnerable times together, Olga would extend them deep kindness, healing and lifting grief and shame. Perhaps this is because she knew grief well, too: she gave birth to 13 children, but only 8 survived to adulthood.
After miraculously surviving an initial diagnosis with cancer, Matushka Olga passed away November 8, 1979 with great courage and faith.
In 1994, a woman in Ossining, New York described experiencing an intense flashback to her childhood sexual abuse one day while praying. She prayed to the Theotokos to help her and began having a vision or dream. In a birch forest, the Theotokos gestured for her to follow another woman into a house built into a small hill. Inside the house, as the mystery woman began to gently touch her as if she were about to give birth, she felt the darkness and years of physical and emotional abuse leave her body.
In the dream or vision according to the letter, the two women then went outside and drank "tundra" tea under a night sky illuminated by the Northern Lights. That's when the mystery woman spoke, pointing to the heavens and saying, "This is a sign from God of his ability to create great beauty where there had been only darkness and desolation."
"Who are you?" the woman asked — to which she replied "Olga."
The woman who had the vision then wrote a letter to Blessed Olga's family asking for a photograph of Olga to identify her. They sent back a family photo with several other Yup'ik elders, and the woman identified Olga immediately. The group photo here is that same image in which she identified St Olga.
Matushka Olga is considered a patron for sexual abuse victims, women who have suffered miscarriages, and expecting mothers, continuing her work of, as her icon says, "creating beauty from complete desolation and nothingness."
The icon was painted by Heather MacKean.