Friday, June 3, 2022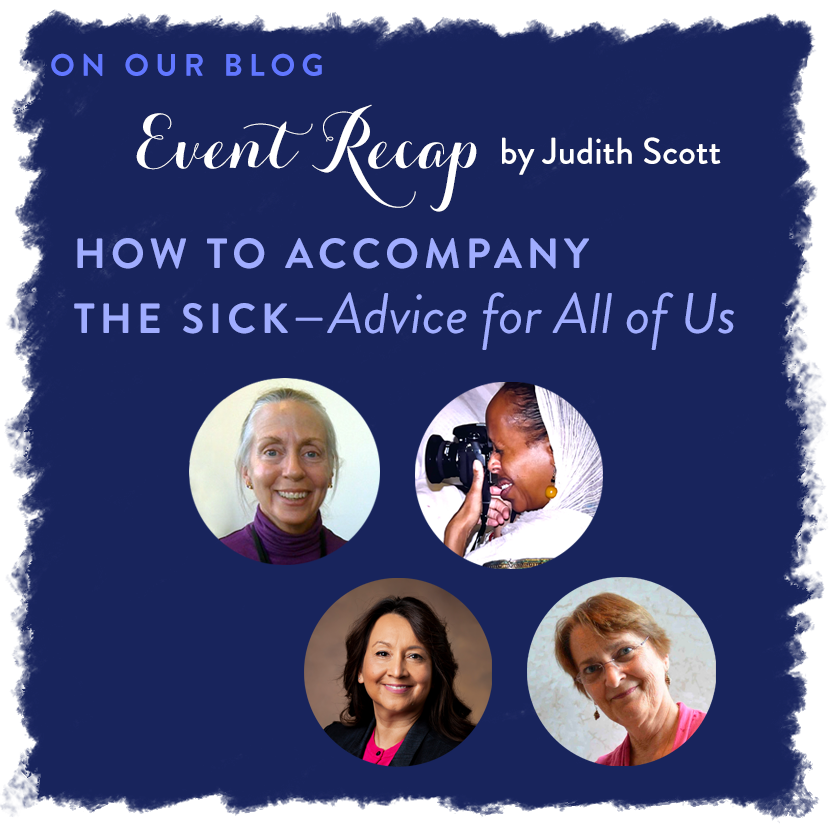 If you would like to watch the recording of this panel discussion, we would be happy to provide to you for a donation of $9 (which supports our ongoing programs). You can find a donation form here.
Then [Jesus] said to them, "My soul is deeply grieved, even to death; remain here, and stay awake with me."" (Matthew 26:38)
Jesus in the Garden of Gethsemane knows that his time on earth is coming to an end. The process has been put in motion for his arrest and crucifixion. Although he knows this is his Father's will, Jesus is distressed. He does not want to be alone and he asks his close friends, his disciples, to stay with him as he prays. They can't do it. They fall asleep.
Their response is so very human. It reveals our own troubled spirit when confronted by the pain of loved ones who we know are dying.
"How can we face them," we ask ourselves. "What can we say?" Our own fear of death stands in the way. We are speechless. We let our own discomfort prevent us from offering comfort to the one who is dying.
On Sunday evening, May 22, four Orthodox women chaplains gathered virtually to talk about their practice providing pastoral care to patients in hospice and palliative care centers. It was an extraordinary session. They told us how their professional skills are informed and sustained by their faith. Their own Orthodox faith provides inspiration and an ongoing source of strength, wisdom and compassion for the work they do. Clio Pavlantos (Greek Orthodox Archdiocese), Tania Bouteneff (Orthodox Church in America). Atsede Elegba (Ethiopian Orthodox Tewahedo Church), and Angela Rios (Antiochian Archdiocese) told us about their training and practice. They told us stories about patients they have ministered to, respecting the strict confidentiality required to maintain the trust given to them and the strict ethical code they abide by. And they shared the joys, sorrows, troubles, and exhaustion they experience in these intimate, spiritual interactions. They told us how they also need to care for themselves.
Here is a summary of their remarks
Chaplain Clio told us that a chaplain is a professional with many hours of clinical training dedicated to attaining the skills necessary to attend to the spiritual and emotional needs of the sick and dying. The care that chaplains give is beyond the scope of volunteers who visit informally. Chaplains form healing relationships with everyone who asks, those of all faiths and those who have no faith.
Chaplain Tania explained that chaplains are not ordained by the Church, rather they are commissioned or endorsed by the Church. The Church provides a strong center in their heart, spiritual and emotional support for providing care to others.
All four women came to chaplaincy from other professions and vocations. They brought their professional skills and life experiences to their new role. Clio studied art, music, and dance. Tania had a career as a primary school principal. Atsede was (and is) a photographer and a painter who came to Orthodoxy and chaplaincy as an adult student in seminary, preparing for a PhD in church studies. Angela is a nurse who sees her work as a chaplain as a deeply important extension of her healing mission. She explained how she has learned how to function as a nurse and as a chaplain. She said that the most important vocational lesson she gained from chaplaincy is "to move from doing to being." As a nurse she has a lot "to do." She has medicine to administer, charts to fill out, observations and monitoring of patients' physical condition to perform. As a chaplain she has to "be." Wearing her chaplain's hat, she has had to learn to be a deep, active listener, not to be the one who solves problems or brings a diagnosis but the one who leaves space for the patient to think and speak. Being an attentive, non-anxious, nonjudgmental, compassionate listener, she creates the conditions for the patient to contemplate on their life, to find meaning in their life and to find comfort .
Every panelist agreed that there is one essential task to their work. As Clio said, her job is to "listen, listen, listen, listen. To ask open-ended questions so the patient can discover the concerns that need to be expressed, to sort out and work through their own feelings. Then the chaplain listens some more. The chaplain can hold space for the patient to go deeper into his memory and deep thoughts. The patient can recover past events, opportunities grasped and opportunities lost; people who were there for them and helped along the way and those they in turn helped. The chaplain can hold the pain for the patient as the patient summons the strength and courage to delve into the furthest reaches of their soul to bring their fears and troubles to light, to lighten their burden and find peace and meaning. The chaplain can honor the joys and small victories gathered over the years.
It is not the role of the chaplain to judge or make decisions. The patients themselves are their own best healers when they are free to be honest in their explorations, when they know that whatever they say will not bring criticism or alienation. One panelist attended a patient who had the option of a surgical procedure that might prolong his life for a while. The patient, suffering no pain and living with intention, decided to decline the surgery saying, "I just want to roll the dice." The chaplain heard this and let it be. After many hours of discussion and reflecting, the patient had come to a personal, informed decision about how his life should end.
Another chaplain told us about a patient who spent almost an hour in a torrent of rage, venting her anger and frustration, spewing accusations and threats to the people around her and ranting about the circumstances of her life. The chaplain let the patient be furious: "Sometimes there's nothing good to say. We have no right to tell them what they need or what they need to do, or how they should feel." When the chaplain returned days later, ready to resume the conversation, this same patient expressed surprise. Her venting had cleared the path for continued sharing on a deeper level. It did not force the chaplain away.
Chaplain Angela told us about a patient who revealed secrets about long ago events in her life that brought her tremendous guilt and shame. The chaplain reacted by asking her, "If another person told you this story, what would you do?" The patient said she would hug that person, hold her to let her cry and feel human connection. Which is just what the chaplain did.
Chaplain Atsede visited an elderly woman in hospice care whose family members were distant. The family's relationships were fragile and tense. Atsede asked the patient to let her record stories the patient told about her about her life, and then with permission she edited the video and gave the family this personal testament which fostered reconciliation and healing of their family ties.
We see in these stories acts of confession. The patient bares their soul. The chaplain is a compassionate presence. "Don't underestimate the power and importance of presence, love, listening, and the powers of witness and accompaniment," Angela said.
And to do all of this with an open heart. We heard a chaplain tell us about starting a visit with a woman at her husband's bedside. The patient told her that they had been married for over 60 years. Instead of saying, "How wonderful, over 60 years!" the chaplain just repeated, "You've been married 60 years." Which allowed the woman to continue, "These 60 years have been so hard," and went on to tell about years of suffering and unacknowledged, soul-crushing forbearance. The chaplain, who had assumed that a long marriage must be evidence of a happy partnership, was relieved that she had not rushed congratulate them.
We heard that the patient is the center of care. For those whose life is drawing to an end, the process of reflection can bring perspective and closure. It can create meaning, opportunities to lay aside daily cares and comfortably venture into the final mystery of death.
But this is not an easy process to be part of. We can allow a patient to lament, to mourn, but we cannot stay in that space, the chaplains said. The emotions from the patients pass by the chaplains, pass through them, but should not settle in them. The chaplains must learn their limitations. They must surrender these cares to God. They can bear witness to God's love. They can gather the pieces of broken souls and offer them to God who alone can carry the weight.
Chaplains do cry. Sometimes the burden they carry from the patient or the patient's family is just too much. One told us how she left one patient's room, closed the door, and wept through the halls of the hospital, through her 3-mile ride in the taxi, all the way upstairs to her home.
Self care is essential for chaplains. Some make sure to spend quiet time alone, doing those things that bring them solace. They share their pastoral experiences with therapists, colleagues, clergy. And every one of them prays. Prayers bring us to the presence of Jesus , to the communion of saints, to God's heavenly realm.
Orthodoxy is foundational in their chaplaincy work. "We understand," one said, "that we are all God's children who do not know the larger plan, the larger meaning of life, the solution to all problems. ". But we can establish space for a holy encounter.
Chaplain Atsede says she constantly remembers that she never enters the patient's room alone. The Holy Spirit precedes her and stays with them. Atsede prays that God's presence increases as she decreases . She lets God's comfort flow through her. We heard from Chaplain Angela that her faith gives her hope and a solid foundation for her patients to lean on and learn from.. Orthodoxy has a theology of suffering, Atsede reminded us. Suffering is part of this life and just as a seed falls into the ground, grows, and rises again into a season of new life, we too leave this life for one that awaits. Chaplain Tania urges us to stay close to the teachings of the saints and holy ascetics who see each night as a falling asleep in the Lord and each morning, each sunrise, as a resurrection.
I left the webinar with deep appreciation for the work these women do. I left with awe and wonder about the faith that inspires such deep work, that strives to leave no one alone or unacknowledged even to the end of life, work that honors our soul's reality and presence with every breath we take. Every one of us at some time in our life may be called to accompany a loved one as they lay dying. These women, by teaching and by example, let us know that we can be with the sick and the dying as they leave us for the mystery of what is to come.
If you would like to watch the recording of this panel discussion, we would be happy to provide to you for a donation of $9 (which supports our ongoing programs). You can find a donation form here.
Judith Scott is Axia's spiritual advisor.