Friday, December 3, 2021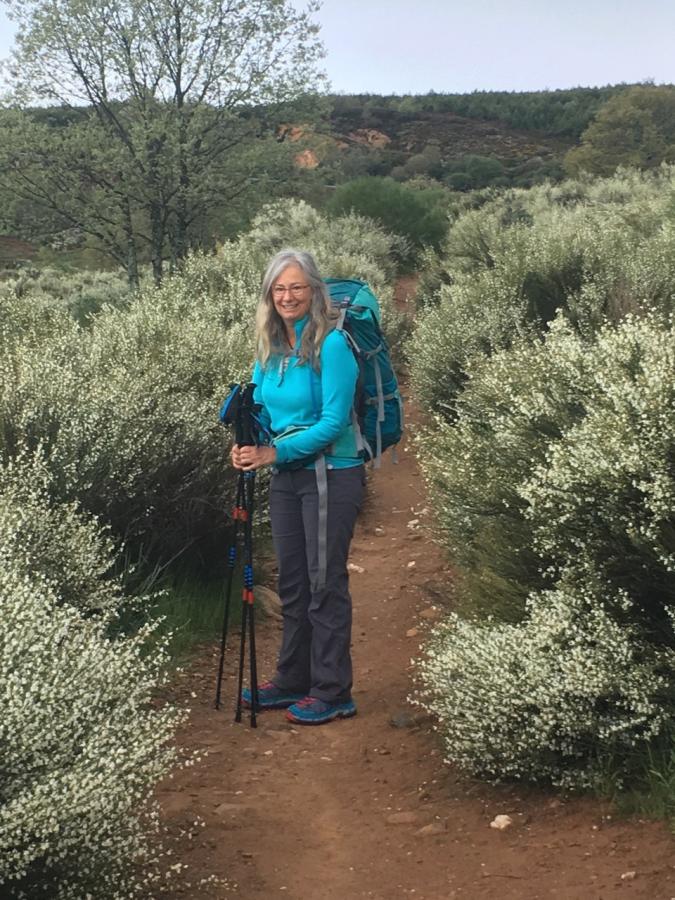 Our resident pilgrimage expert--who is also a member of our executive board--talks here about how to bring movement into your spiritual practice. Although she talks mostly here about walking, if you can't walk, you can apply these principles to any kind of movement that you can manage outside, or even at a window. Intentionality and unplugging from the world around you are what's key. You see Jen here early in her 2018 Camino walk.
Winter is here, it's getting colder, the gray sky has settled over us and the news from around the world isn't encouraging. There is a mental and physical pull to hunker down, retreat into our house caves where electronic lights beam through the darkness as we think we might be readying ourselves for another lock down. But wait. Remember–we have been here before and know this feeling. We know there are other options to weather this. There is a simple, yet revolutionary way, to make sure our hearts and minds not only stay open, but actually grow this winter. Let's go for a walk!
If you think I'm out of line, let's listen to one of the Church fathers. Walking solves everything, said St. Augustine. St. Egeria, a spunky and adventurous woman from fourth-century Spain, must have agreed with him, for she spent years walking–alone!--on pilgrimage from Mount Sinai to Constantinople, with a three-year stop in Jerusalem. (She also strolled over to Mount Nebo and the tomb of Job in Carneas while she was at it.) Walking back to Europe, she stopped to venerate St. Thecla's shrine near Seleucia Isauriae (now Siliifke in Turkey), a holy site particularly venerated by women.
When other early Christians who were feeling blue, or sad, or uncertain, they weren't prescribed pills or therapy (which didn't yet exist), they were told to take a long walk out on an open trail to cleanse those feelings from their head, heart and soul. It was quite common for priests to recommend long walks as penance. Part of the idea was to remove them from their worldly possessions so that they could re-establish a relationship with God. These pilgrims would spend weeks, even months, walking, carrying their spiritual burdens and little else.
Although we may think of pilgrimage as solely an ancient or medieval practice, it continues to be practiced today. I'm sure you've heard people talk about walking the Camino, an ancient series of routes across Spain to the "spiritual" burial place of St. James. Why do modern pilgrims make such journeys? Walking such trails offers peace and transformation, and a respite from our fast-pace, media-saturated, consumer-driven society. Taking a long walk allows us to experience quiet, the beauty of God's creation, and trade in the psychic armor that gets us through modern life for purity of heart, curiosity of mind and peacefulness of soul.
Journeys like this obviously take a lot of time. Since many of us can't take months off to connect with ourselves, nature, and the divine, we have to find a different way if we want to get some of the same benefits into our everyday lives. If you haven't done so before, now might be a good time to try it out: with Omicron looming and a sense that we may need to go into a winter lockdown, building a spiritual walking practice outside our homes can be healing and renewing. It can allow your brain to relax, lets your heart get into a good rhythm, and allows your soul to be open. It's a safe spiritual practice during a pandemic, as you can be socially distanced even when you are maskless. It will also give you a much needed sensory experience. Feeling the cold air move in and out of your lungs, and setting a steady pace makes you feel alive, vital, a necessary counterpoint to attending services over Zoom.
So, as we proceed through Advent, let's get outside.
A couple of considerations. It is essential to leave all electronic devices home (or completely switched off in a hard-to-access pocket). You are out there to spend time with yourself and your thoughts. It takes a bit of effort to quiet all those voices in your head, you don't need anyone else's. While walking, observe and engage with your thoughts, don't ignore them. Stay with them. Let them repeat themselves, because at some point you will tire of them. You end up putting your thoughts through a prism, which lets you see their complexity, their imperfections, and why they have a hold on you. You will wonder how well they are serving you. For those that don't, at some point in your walking practice you will decide to gently leave those thoughts behind you on the trail. You won't have to carry them anymore. Your cares, your pains, your resentments, your fears, your burdens will become markers on the path you walk.
And that is when the magic happens. With your thoughts left on the trail, other parts of you will kick in. You will see and hear things differently. You will see or hear others for the first time. You will notice details. Everything will become brighter, sharper, clearer. You will smell the evergreens so strongly, and you will hear a small sparrow's birdsong as if for first time. An internal energy of gratitude and compassion envelops you, as the firm ground holds you, the endless majestic blue sky will inspire you and the landscape of trees, even without fruit or leaves, will evoke death and resurrection.
So, as we enter the winter season, get outside. When you feel sad, blue or uninspired, lace up some shoes, put on a base layer for warmth, grab your trekking poles (if you use them), open the door and just start walking. Because after less time than you'd think, anything inside you that you are carrying will fall onto the trail and you will draw closer to the Divine.
Axia's treasurer and a long-time program evaluator, Jennifer Nahas now works in the outdoor gear industry where she hosts workshops and helps outfit folks for long walks. She herself has walked the Camino de Santiago, an 8-week pilgrimage across northern Spain, and has also hiked a trail across northern England. She is currently preparing for the Camino Portuguese in the spring.