Friday, April 8, 2022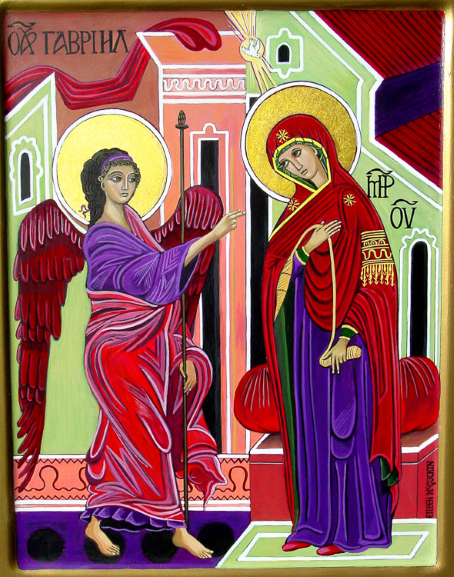 On March 25, those of us on the New Calendar celebrated one of the 12 Great Feasts of the Orthodox calendar, the Annunciation. Those of us on the Old Calendar celebrated just yesterday.
This is a photo of an icon by Eileen McGuckin which I am honored to have in my icon corner at home. I especially chose this from her gallery because I love its sense of time standing still. Gabriel speaks to Mary, his news is momentous, and she is leaning towards him trying to understand what his message could possibly mean. The colors are vivid. Their expressions are wondrous with awe, and marvel, and incomprehension. It leads me to a space where I have been before at each major life change, a time forever marking a before and after point in my life, a step into the unknown that will define me, shape my future, challenge my own sense of values, of my worth.
Mary's news is epic. It concerns the entire course of human history and God's Creation. How did she react? What did she think?
Over the centuries poets and composers have considered just these questions. Through their works we can hear what Mary's and Gabriel's inner thoughts and emotions might be. We can be present with them in a deeply personal and intimate way. These composers--educated, steeped in theology, and raised in the Church--were charged with making God's Word, Scripture, and Church teaching accessible and alive to the people.
Romanos the Melodist lived in 6th-century Constantinople, a thriving cosmopolitan city with a vibrant Christian community of many churches, a center for scholarly and ecclesiastical enterprise. The great church of Hagia Sophia was being built. Romanos was a native from Syria who was tonsured in Constantinople as a monk. One evening during evening service, he was mocked for his poor singing and in shame hid himself in a dark corner of the building. There the Virgin Mary came to him with a scroll and told him "Eat this." After he did, he rose and sang a new hymn in a beautiful voice: "Today the virgin gives birth "—-which you have heard at every Orthodox Nativity service you've ever been to.
Romanos wrote thousands of hymns. People gathered to hear him in church and in great outdoor festal assemblies. You can find an excerpt from his
Annunciation hymn here
. Gabriel and Mary speak and debate. We the audience are addressed and encouraged to participate when we hear, "Hail, unwedded bride."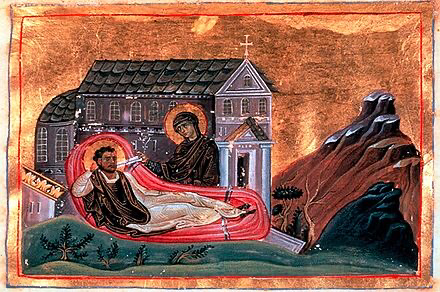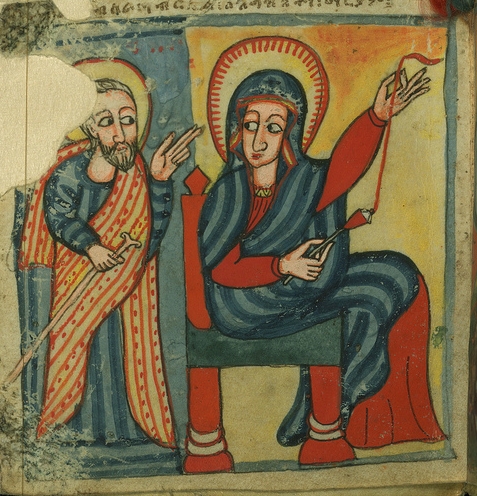 According to the Protoevangelian of James, Mary had been raised in the Temple. She knew Scripture and tradition. So it was important for her to know that this visitor to her home was not the same as the one who tempted Eve in the Garden of Eden. Gabriel is in awe of this young woman and hesitant to fail in his mission thus angering God. Mary rises to the occasion, accepts her mission and then, in a poignant appeal to Joseph, asks where he was when that visitor invaded her rooms. Joseph notices a change in Mary, but he is confused. This interchange, created from Romanos's imagination, seems such a sweet and familiar domestic conversation. And Joseph appears as the truly righteous man he is, caught up in this miracle story, clueless yet loving.
Imagine yourself, standing in the crowd, hearing the very first performance of this hymn in the very new Feast Day of the Annunciation. Once again I appreciate the beauty and sensitivity of our ancient faith.
The third icon is an Annunciation from the Coptic tradition.
Judith Scott is Axia's spiritual advisor.