Friday, November 25, 2022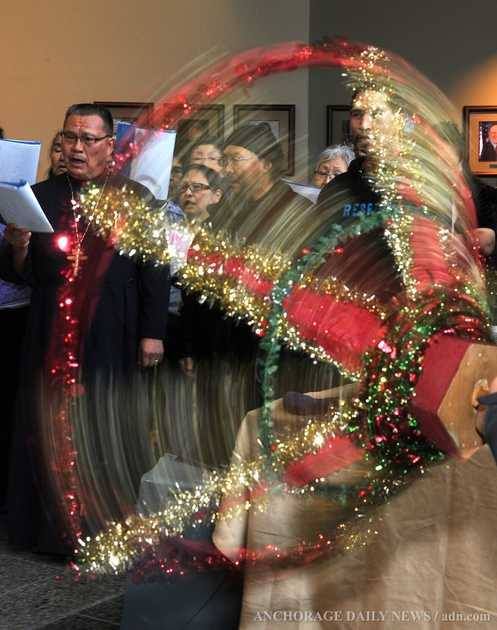 For a few important years, my family belonged to a New York parish that had inherited a Native American tradition. The parish was aging, with a huge set of crumbling buildings that had once been a thriving home to people from the Lemko region of the Carpatho-Russian mountains. During our time there, some core Lemko families still remained, but most had drifted away, back home to Poland, or moved in with sons or daughters who had transferred out of state. The pews filled instead with people of Russian ancestry, as well as people with roots in Georgia, Romania, Ukraine, Dominican Republic, Jamaica, Ireland, Greece, Texas, and Italy. Two of those newbies were the recently-arrived priest and his wife. He had converted a few years before, and she had grown up in a Russian-American family in the Church in Alaska.
When our New York congregation would go caroling at Christmas time to our parish's shut-ins in the day or so after the feast, Matushka would carry a large sparkling star on a handle which she had brought from Alaska. It was about the size of a large platter; she would twirl the star on its so that it spun around the icon of the Nativity at its center. I'm sorry to say this was during a time when I wasn't taking so many pictures as I do now, because I'd love to give you a glimpse of what that looked like with our choir.
I learned much later that, in Alaska (where all the photos you see here originate), these stars are carried by groups of carolers that go from house to house during the Nativity season. The tradition is called "starring". During our New York house visits we would sing a variety of Russian- and English-language carols. The Alaskan singers tended to enter houses while singing the angels' Nativity song, "Glory to God in the Highest" (in Slavonic, Slava v vyshnikh Bogu, which is where the Alaskan name for the tradition, Selaviig or Slaaviq derives. Our group of carollers tended to remain the same size throughout the day of visits as we needed to keep getting back in our cars to continue our circuit. In Alaska, however, tradition took the carollers from house to house on foot and, at each stop, people generally would join the group as it continued on its way.
According to St. Herman's Seminary, in Kodiak, Alaska, "Within Alaska, [Selaviiq] customs differ, with lots of singing and then feasting and even gift giving in the Yup'ik homes along the Kuskokwim and Yukon Rivers. In Bristol Bay, along the Nushagak River and around Lake Iliamna, there is less visiting and the singers travel more quickly around their own village before heading for the neighboring communities, where most households give a gift 'to the star' as a donation to the parish church the singers represent. Many homes host elaborate memorial dinners during the holiday, if a family member has passed away during the previous year."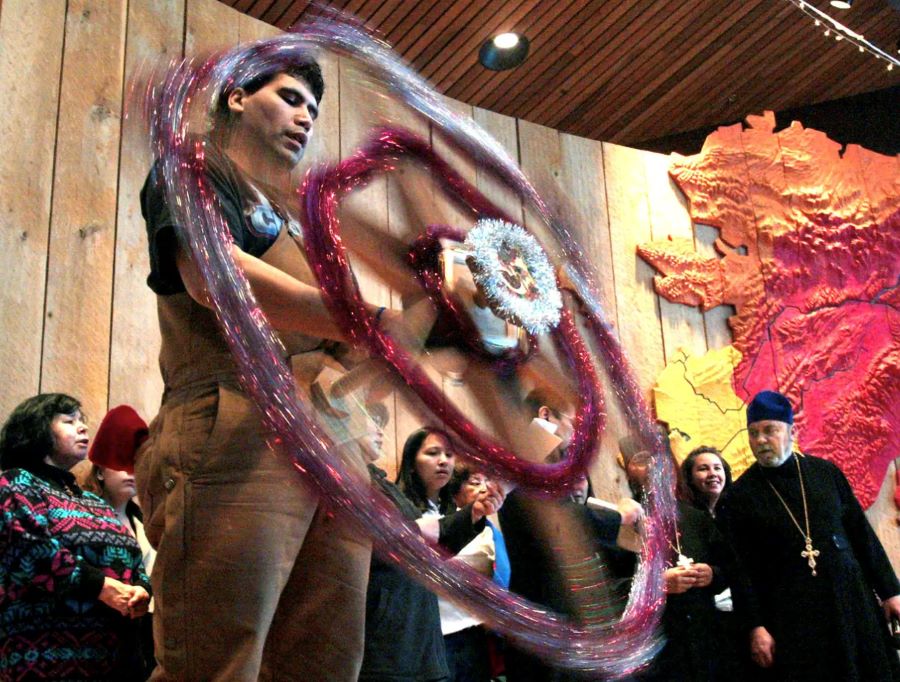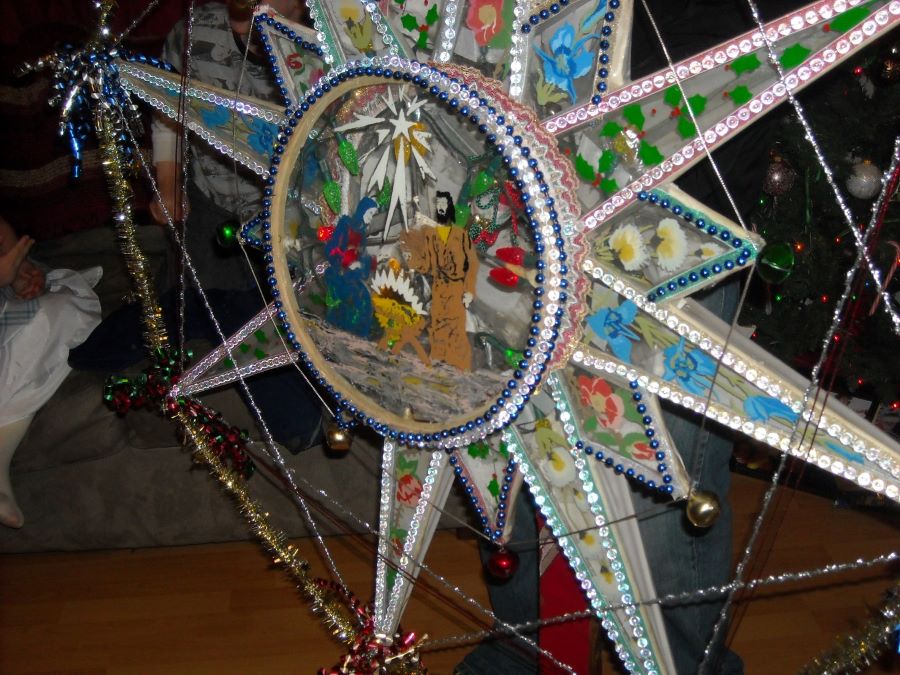 From what I've heard, you can't buy one of these stars in a store. They are handmade. A story I love come from Rebecca Jekel, who writes in A Parish for All Alaska about a priest's family who were recent transplants from Philadelphia at a newly established parish in Anchorage, "At first they knew nothing of the term 'starring' or of the handmade stars that gave the tradition its name (except that their parishioners would talk about the custom. But that changed on Christmas Eve in 1971 when a student Father Nicholas met earlier that year in Kenai at Saint Herman Pastoral School showed up unexpectedly at…vigil service. His name was Thomas Yako, and he had heard…that the new Church in Anchorage wasn't equipped for starring. So Tommy brought with him a one-of-a kind Christmas star especially for the parish. Knowing that in Anchorage the faithful would not be able to travel on foot as they do in the villages, Tommy designed the star to fold up as an umbrella does, so that it could fit easily inside an automobile. After constructing it at his home in Dillingham, about 330 air miles from Anchorage, Tommy then bought two seats on a commercial jet, one for himself and one for the three-foot star, so that he could transport it safely to its new home."
Since those years that we went caroling with our matushka, our choir, and that star, our priest and his family moved from that parish, as did we. I miss it all, and I wish I'd known more about the origin of that tradition while we were living it out. The love and care and community life behind the tradition of starring makes it one of those customs that you hope will spread even further throughout the American Orthodox world–- not least because it is a holiday gift from the oldest of all our Orthodox churches on this continent.
Photo 1 (we don't know who took this–if you know, please tell us!--but the caption reads "Irmogen Merculief spins the star as Father Pete Chris, of St. Innocent Russian Orthodox Church, leads the church choir in hymns at the Alaska Native Medical Center on Tuesday. Starring or "Slaaviq" is a traditional part of the Russian Orthodox Christmas celebration."
Photo 2 from radio station WDLG, at St. Seraphim of Sarov Orthodox Church in Dillingham, Alaska, on January 7, 2020).
Photo 3 from Unalaska From My Point of View blog, with the caption, "We sing in Slavonic, Unangam tunuu, and English…."
Patricia Fann Bouteneff is founder and president of Axia Women.