Friday, June 12, 2020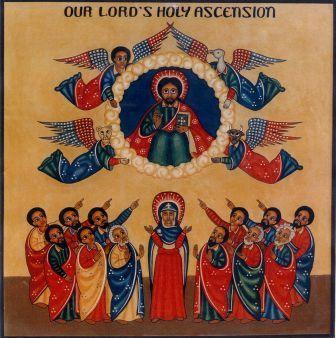 On the Feast of the Ascension (for some Orthodox Christians), several days after the horrific murder of George Floyd, members of Axia Women gathered digitally with Dr. Sr. Vassa Larin to share an Agape meal. Despite our geographical separation, we united to reflect on Christ's ascension, thinking about themes of grief, absence, and community expressed in the Acts 1:1-14 account. At the time, this passage seemed to have special meaning in relationship to the Covid-19 pandemic, as social distancing fueled ontological anxieties about our rapidly changing world. For me, the themes have taken on even more relevance in light of the nation-wide protests that have developed as a result of Floyd's murder. Dealing with the epidemic of systemic violence against our Black sisters and brothers during a pandemic is difficult but essential. In the Acts account, Christ tells his apostles, who in their broken humanness had difficulty understanding the situation in which they found themselves, that the Holy Spirit would give them power to be witnesses for him. May we draw from the strength of the Holy Spirit given to us at baptism to speak out of against the injustices perpetrated again the Black community, to be living, active witnesses of Christ's message of love and equality. May we follow in spiritual footsteps of the men and women who were devoted to Christ during that turbulent period, even when he felt far from them.
We thank Dr. Sr. Vassa for making this shared meal possible. You can see the video here.
We would like to give credit to the iconographer of this icon. If you know who it is, please contact us!
Dr. Sarah Riccardi-Swartz is the secretary for Axia Women and attends an OCA parish in New Jersey, where (pre-Covid-19) she sang in the choir. She is a sociocultural anthropologist, documentary filmmaker, and historian who works on American religion, social politics, and gender.