Friday, October 20, 2023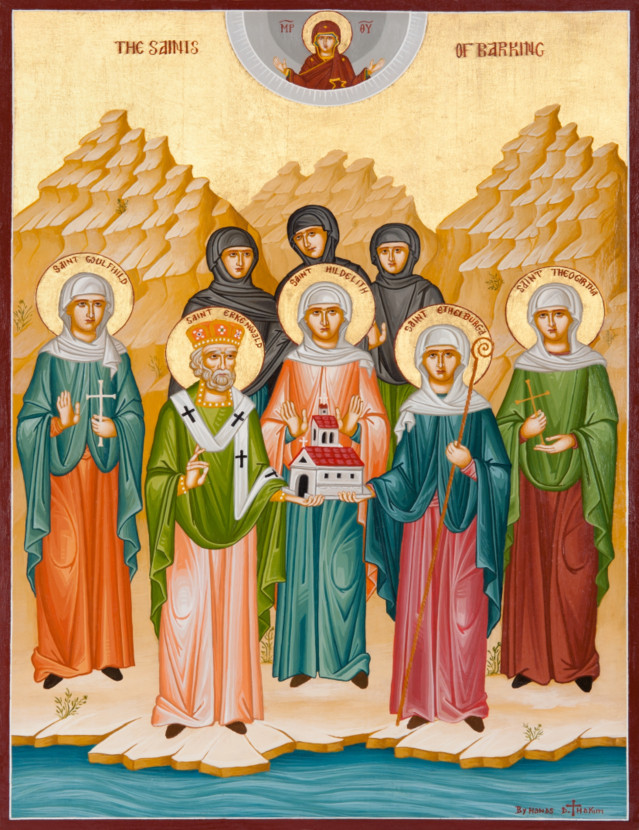 The second in our new series of pilgrimage stories comes from Sandra Simunic:
When I used to visit Serbian monasteries and shrines, during the services, I would hear priests always mention local saints when they gave people a blessing. Today, I live in Great Britain. I have been wanting to find out more about Celtic saints from the first Christian millennium because I want them to become part of my spiritual life.
I have so far discovered Chad, Cuthbert, Aidan, Patrick, Columba, Mellangell, and so on. Many of them are very closely connected with nature; water and the green, green grass of home (like the song says), because this is a "green country" and at all times everywhere you can find greenery. Also, since animals are around us most of the time (even in big cities like London), you find the saints associated with different kinds of birds, foxes, and squirrels (who are delightfully naughty and lively). Celtic saints are often painted on icons with otters and small rabbits.
The icon of the Nuns of Barking icon places them on the bank of the river. This is not River Thames, but the much smaller Roding River.
I encountered northeast London for the first time. It's a place of many different cultures, people, and races. At the edge of this part of town, you can see the church of Saint Margaret of Antioch and the ruins of an old monastery which was closed by decree of Henry VIII. In his time, the monastery was Roman Catholic and followed the Benedictine tradition, but the original monastery had been established much earlier - in 666 AD, by Saint Erkendwald, who was called the 'Light of London'. Today, he is the saintly protector of this mega city. The monastery itself was dedicated to the Theotokos. The first abbess of the monastery was a sister of Saint Erkenwald called Ethelburga (who is also a canonized saint in our calendar). Later, they brought in a nun who we know today as Saint Hildelith and gave her the mission to teach the nuns deep Christian spirituality and sound monastic rule.
Unfortunately, the nuns who lived here in 871 were killed by Viking raiders. When they didn't find the gold they were pursuing, they burned the monastery instead, which is how those nuns of Barking became martyrs for the Church.
When you walk close to the church cemetery, you can sense a deep peace. It's very strange to feel this depth of calm not far away from the town, even with the busy street markets and the sounds of music from all around the world. When I was there, the Liturgy was also attended by people from different races, traditions, and cultures. I kept thinking about the nuns who had lived here so long ago. Maybe they were looking down on us from heaven. Probably, yes. Maybe they are happy because we were visiting their home. In my mind's eye, they were tall, freckled women, with lush hair, almost a little magical in their appearance. They would have been very different from Balkan women like myself.
Here, where I can meet different cultures, I have noticed that people who are coming from Celtic Christian tradition have something in common with Antiochian Christians. I don't know exactly the reason for that, but I can sense warm, Abrahamic hospitality and lack of any national or ethnic pretentions. In some way, the Nuns of Barking invite people from different Orthodox backgrounds to a Pilgrimage of Barking every spring, soon after Pascha). Here, in northeast London, we can hear "Christ is risen!" in different languages, and all of us become One in the diversity of traditions, languages, cultures, and races. Isn't this how it was always supposed to be?
Sandra Simunic was born in Zagreb, Croatia, in 1975. Her father is Croatian Catholic, and her mother is Serbian Orthodox. She earned a degree in administrative law at Zagreb University of Law in 1998, after which she worked in corporate law offices. She has lived in London since 2020 and is the proud mother of a 21-year-old daughter who is a university student.