Friday, November 17, 2023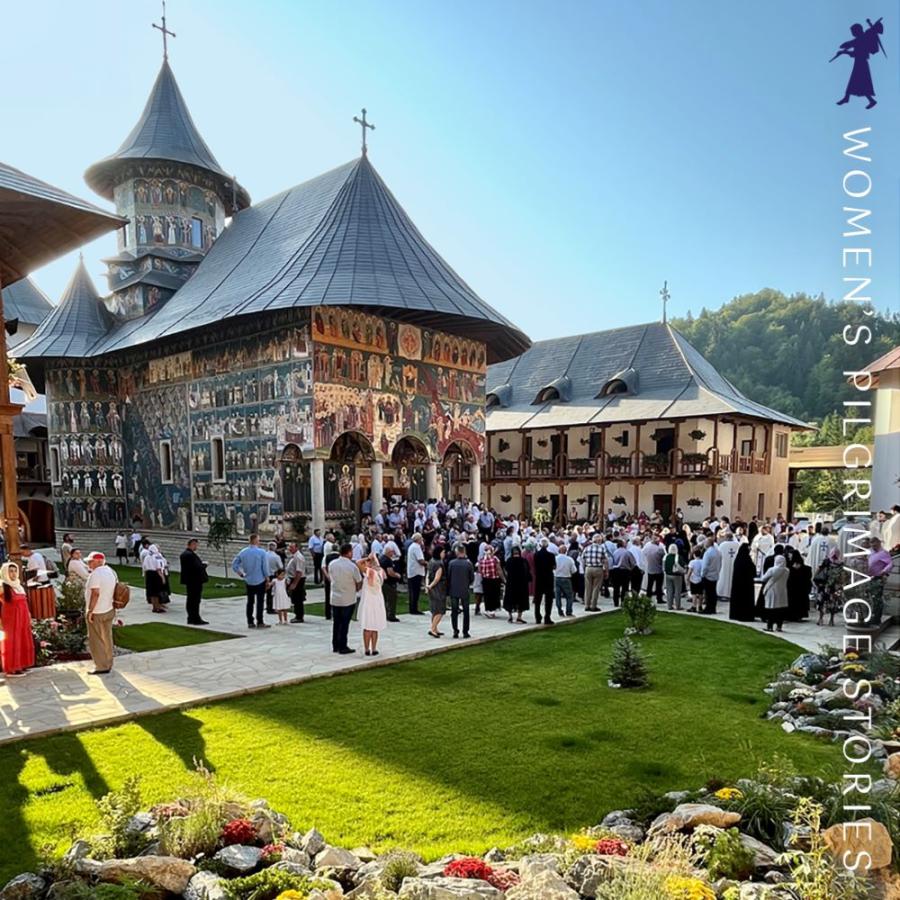 The breath of man is the light of the Lord... Proverbs 20:22
I recently had the blessing of participating in the Mull Monastery Pilgrimage to the Romanian province of Moldavia. From the moment we met in the city of Iasi, to our last day together, we were guided to places of holiness and beauty, places of light-filled breath. There was never one moment when we weren't surrounded by light that oriented our hearts and allowed us rich opportunities for inner reflection. As I reflect on many of the lights we were blessed with, a few in particular come to mind:
The light of hospitality
We experienced so much generous hospitality in the monasteries we visited and particularly in St. John Rascha Monastery, where we stayed. We were always welcomed with joy and incredibly well fed and cared for. Waking up to bells and the semantron calling us to prayer was loud, but wonderful! The call to prayer was impossible to ignore. Staying in a monastery also allowed us sustained connection to an ethos of love for God and for all others. We even participated in the feast day of St. John Rascha, praying with thousands of others in the middle of the forest and being amazed at the miracle of feeding those thousands. The prayerful and loving connection between the monks and the people was inspiring to witness. We saw the sacrifices made by the St. John community for our care and we were deeply grateful.
The light of guidance
To have the guidance of Fr. Seraphim and the other monastics from Mull monastery made it easy to relax and let each day unfold, knowing that careful thought and planning went into each aspect of our time together. Fr. Seraphim was also an incredible source of information and wisdom, answering our questions so patiently and ensuring we were prepared for many different experiences.
The light of companionship
Journeying with a small group and sharing new experiences for the first time with others was a joy. Conversations were easy and often inspiring because we shared a love for the church and for prayer, and shared an open heartedness to what we were seeing and learning. Twelve days of shared meals, shared traveling and shared prayer is a wonderful foundation for strong connection. Each fellow pilgrim touched my heart through their kindness and friendship. I was also aware of the companionship of other pilgrims who journeyed alongside us, often joining in our prayers, or listening in as we learned about the life of a Saint. We were part of a multitude of pilgrims past, present and future, a multitude seeking the light of these holy places. To travel a pilgrimage route so tried and true was reassuring and inspiring.
The light of architecture and iconography
The many beautiful monasteries and churches we visited were eternal landmarks, every aspect of the architecture and iconography orienting us to Christ, His Saints, and His salvific work for us. The history we learned about the monasteries and the area of Moldavia was deeply intertwined with the history and tradition of the Orthodox Church. The nuns who helped us truly see the frescoes and understand their many layered spiritual meanings and patterns were so knowledgeable and kind. Because of them, I am more equipped to appreciate and interpret iconography. How blessed are the people of Romania to have this shining witness always in their midst!
The light of encounter
The most exciting aspect of the pilgrimage, for me, were the encounters with holy elders and saints I had not yet had the chance to meet. To get to know them within the context of monasteries or caves where they had lived and prayed made them come alive in my heart. What an incredibly rich heritage of holiness is present in Romania, holiness forged in persecution and suffering. I am grateful for the prayers of these precious saints.
The light of prayer
The encounters with holy elders, saints, and Wonder Working Icons were bathed with prayer. We often read the life of a saint whose relics were present in a particular church or cave, and then prayed their canon or troparion, kneeling before their icons or burial place. We were given many opportunities to join the prayer of the monks where we visited or stayed. The opportunities for prayer, even in a language unknown to me, were times of deep connection to the Orthodox tradition and my brothers and sisters in Romania. I also learned so much from observing the prayer of those much more grounded in the tradition than I am as a convert.
The light of the unexpected
Two unexpected events were particularly bright. At one monastery Fr. Seraphim was asked to pray the commemoration service for a nun who had fallen asleep in the Lord during the night. What an honour and blessing to gather around and pray for someone who had dedicated her life to prayer. May her memory be eternal. It was also a delight to witness the marriage of two fellow pilgrims – married long ago in the Western Church but wanting to have their marriage blessed by the Orthodox church. These two events highlighted how every aspect of our lives is embraced and blessed by the Church.
Many thanks to Fr. Seraphim, Mother Morwenna, Fr. Fillan, Mother Samthann, Mother Ita, Br. Gerasim, and Sr. Mary for making this pilgrimage of light-filled breath possible! I know the light I experienced in Romania will continue to shine in my heart as the grace of our journey unfolds. I pray that many others will have the blessing of experiencing the same light.
Dr. Kimberly Franklin is a former Dean and Professor of Education. She attends Holy Nativity Orthodox Church in Langley, British Columbia. She spends her retirement travelling with her husband, and working with a non-profit organization for vulnerable youth. The Moldavian Pilgrimage is her third formal pilgrimage, having participated in two others in the Hebrides Islands and Northern England.