Friday, July 9, 2021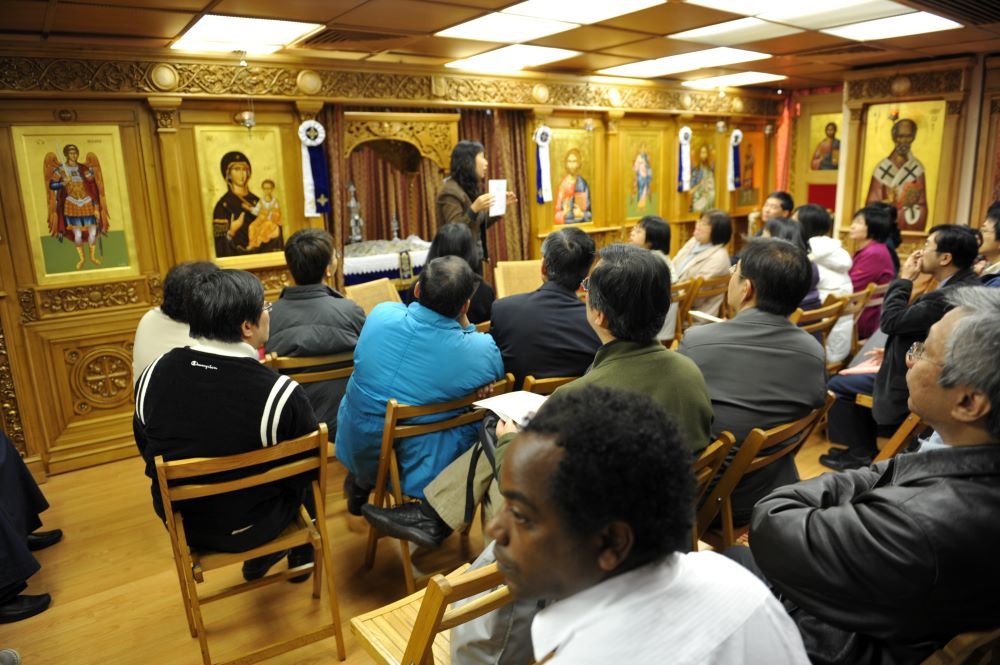 Christy Ma, who was a recent Woman of the Week, mentioned in one of her WOW pieces that she had been part of an inculturation experiment in Hong Kong. We wanted to know more! This is what she writes:
Here is the context for my first inculturation experiment:
In the mission context of the Orthodox Cathedral in Hong Kong, we used to have a lot of non-Orthodox groups that visited our Cathedral. The inaugural Metropolitan of Hong Kong (now the archbishop of Thyateira and Great Britain) and his team worked conscientiously to build bridges with the local people. They set up a pattern of liturgical hospitality to welcome seekers and anyone else interested in Orthodoxy. These visitors would usually contacted the church office in advance to attend liturgy as a group. They would also express a wish to know more about Orthodoxy. After liturgy, we would therefore give them a lecture followed by a question-and-answer session. By the time I finished my coursework at Holy Cross and returned to Hong Kong, a new metropolitan had just arrived in Hong Kong to continue this mission work. The Chancellor of OMHKSEA perceived me as "the Link" between the Orthodox Church and the local people, so they invited me to pick up this mission work. I was thus given many opportunities to share my understanding of liturgy. In addition, my ethnic identity as well as my theological education background gave me privilege ground to explore in topic like inculturation.
One such suitable occasion for an inculturation experiment occurred during the Royal Hours of the eve of Theophany, for which 60 Cantonese-speaking pastors of the Chinese Rhenish Church came to experience Orthodox worship. They made their request 40 days in advance, which would not only give us sufficient time to do not only a draft translation, but also a hymn translation. I therefore proposed this idea to our new Metropolitan, who did not refuse the idea of chanting one hymn in Putonghua or Mandarin. So I set out to prepare a bilingual text in English and traditional Chinese with commentaries for participation and education purposes.
There were many reasons I chose the Royal hours for this inculturation experiment:
1. In comparison with other types of liturgical services, Royal Hours are liturgical prayers comprised of mainly scriptures and hymns that are free from any theological controversy in the ecumenical context.
2. The date of the feast fell on Monday that year, which is a rest day for the Chinese-speaking pastors but a work day for our English-speaking parishioners. Most portions of the service could thus be conducted in the local language, Cantonese. Visitors were invited to serve as the lectors so they could actively participate.
3. For cost control: Since the Royal Hours comprise much scriptural reading, which were already translated by various Christian traditions, their were fewer parts that needed to be freshly translated, so the cost for translation was lowered.
4. We took this opportunity to set up a working and consultation team as a possible "prototype" for future "commissions for translation."
5. We used this experience to understand the translation costs for such work, so that our mission church could set up a reasonable budget against future fundraising.
I thus found myself serving as the "cost and quality control" for this translation project. I formed a working team of mainly non-Orthodox (but Christian) specialists. Except for the translators and music composer, who earn their livings through their expertise, the rest were experts serving on volunteer basis:
1. An experienced translator with a degree in theology. She translated the liturgical text of the Royal Hours from English into Chinese.
2. A Chinese-language stylist who is gifted in writing poetry. He mainly plays on words and adorns the text with a more elegant style. His main job was to re-create the meaning of Byzantine hymns in Chinese poetic context.
3. A music composer who re-phrased the Chinese lyrics into a musical score that had previously been transcribed into western notation by a Byzantine musicologist.
4. A Putonghua/Mandarin teacher created a Latin transliteration so that our Greek-speaking hierarch and clergy could practice. I picked Mandarin for this purpose instead of Cantonese because it has only four tones and is therefore easier for a foreigner to pick up. (Like Mandarin, Cantonese is a tonal language, but with nine tones instead of four, which makes it more challenging for a native Greek speaker to pick up.)
5. In order to keep costs low and efficient, since I was the only Orthodox Christian with degrees in theology, I played the roles of project manager, researcher, and editor. First, I needed to screen out non-scriptural texts for translation cost quotation; screen out fixed and moveable parts for cost control, and do pre-translation research. I also explained the nature of the service, the liturgical and theological concepts to the translator, the musician, and the Chinese-language stylist, who didn't know the Orthodox Tradition. I also needed to edit the translated draft through an ecclesiastical lens.
I also set up a consultant team of primarily Orthodox members:
6. The metropolitan of HK who is proficient in both Modern and liturgical Greek helped clarify the meaning of certain Greek words.
7. A teacher and graduate student [non-Orthodox] of Chinese History and Chinese Literature helped research particular Chinese terminology and its usage in diachronic and synchronic dimensions.
8. A linguist [Orthodox] helped clarifying some translation guidelines previously set up and terminology which already existed in the Orthodox circle in Hong Kong.
9. A Byzantine musicologist/professor [Orthodox] helped clarify some specific issues related to Byzantine music history or the nature of a particular hymn.
10. An emeritus Professor [Orthodox] of liturgics helped clarify the nature of some liturgical matters and concepts.
An apolytikion which revealed the theme of the celebration was thus chosen:
The Troparion/apolytikion with transliteration [pinyin]
Tone Four
The river Jordon once turned back before the mantle of Elisha, after Elijah had been taken up into heaven, and the waters were divided on this side and on that: the stream became a dry path before him, forming a true figure of the baptism whereby we pass over the changeful course of life. Christ has appeared in the Jordan to sanctify the waters.
昔者以利亞奔天
Xi1 zhe3 yi3 li4 ya4 ben1 tian1
以利沙操衣水擊
Yi3 li4 sha1 cao1 yi1 shui3 ji1
滔滔約旦河驟息
Tao1 tao1 yue1 dan4 he2 zou4 xi1
水牆擘開顯乾地
Shui3 qiang2 bo4 kai1 xian3 gan1 di4
於焉預表聖洗禮
Yu2 yan1 yu4 biao3 sheng4 xi2 li3
基督受洗約旦河
Ji1 du1 shou4 xi3 yue1 dan4 he2
聖軀無罪將水清
Sheng4 qu1 wu2 zui4 jiang1 shui3 qing1
吾人效主齊進河
Wu2 ren2 xiao4 zhu3 qi2 jin4 he2
脫胎重造在波心
Tuo1 tai1 chong2 zao4 zai4 bo1 xin1
Christy Ma is a liturgist who lives and works in Hong Kong.