Friday, September 13, 2019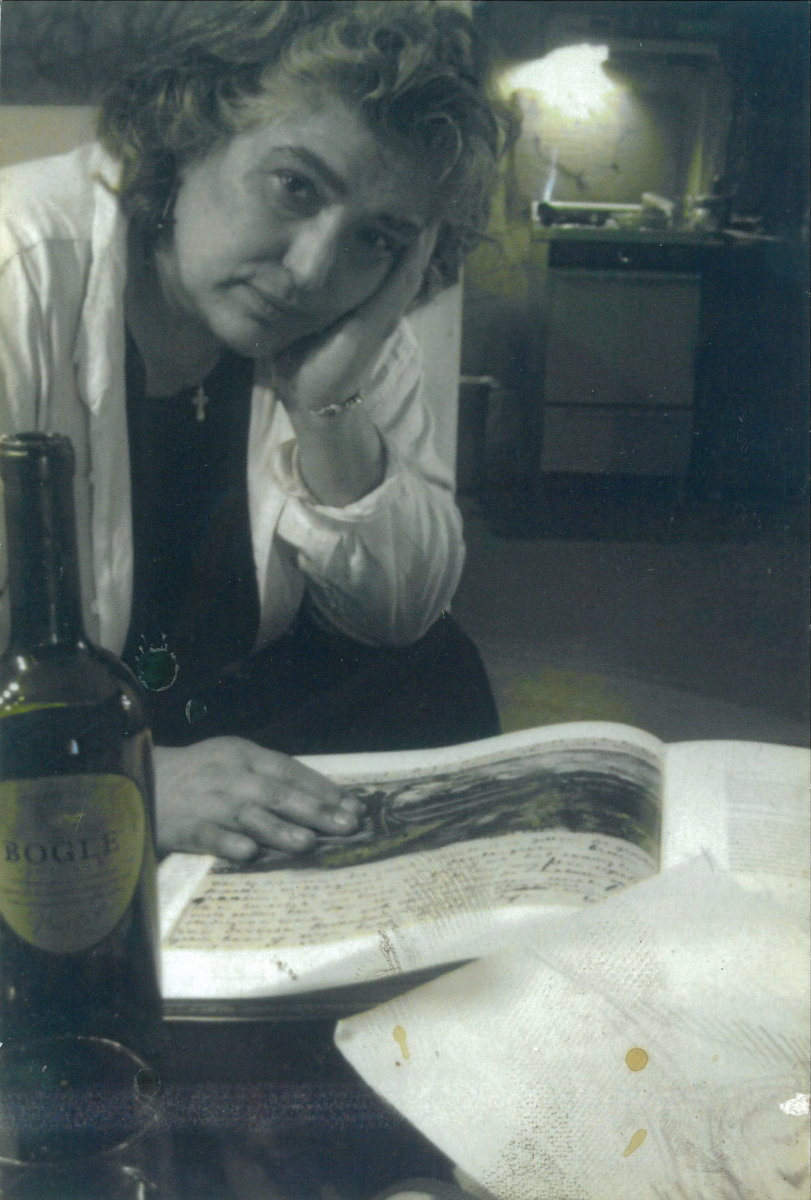 Alexis Kyriak is a prolific fine artist working out of Vermont. Born in New York City into the Greek Orthodox Archdiocese, she currently attends and sings in the choir at St. Jacob of Alaska, an Orthodox Church in America parish in Northfield Falls, Vermont (http://stjacobofalaska.org/). Alexis is a versatile artist who works in a wide variety of media. Her studio is stacked with acrylics and pastels, graphite drawings, embroideries, clay sculptures, and fabric sculptures. You can see many of the works referred to in the rest of this post by going to her website (http://www.alexiskyriak.com/). The name of her studio refers to Isaiah 60: 8, "Who are these that fly like a cloud, and like doves to their windows?"; a passage which speaks to her of joy and feminine peace and exemplifies how she feels about the image of the Biblical woman.
Alexis received her art training at the Fashion Institute of Technology. As she has written, she learned "anatomy, perspective, sculpture with calipers and every medium possible taught. To this day I rely on those techniques." As you will soon see, she uses her divisional training to reach to the past in order to look to the future.
As an artist, Alexis admires some of the great modernists, Cezanne ("for his grasp of the invisible, underlying reality"), Picasso ("for his attempt at depicting the fourth dimension"), Kandinsky ("for his ability to see colors when he heard music"), Van Gogh ("for being caught up in God, people, and color"), and Gauguin (for "his colors, the glorious mud, and the beauty of paradise enclosed in the female form"). Her acrylic painting especially hearken back to the modern masters, in the colors and forms with which she depicts the female form: http://www.alexiskyriak.com/. Paintings of the female for are stacked around the studio in striking numbers. She writes, "My work is symbolist and is steeped in the concept of the anima, the Jungian understanding of the collective feminine life force that drives my creativity."
Her fiber art, mainly embroideries, are usually large pieces made of freehand needlework using large stitches in a revival style that calls on the English Pre-Raphaelites (think John Ruskin): http://www.alexiskyriak.com/fiber-art.html. This is noticeable especially in her angels. As her fiber art is striking for its religious tones, it's also not surprising that the textiles of the Greek church also have a strong influence on her work. She has created a number of epitaphia (the large, richly embroidered cloths adorned with an image of Christ's dead body, usually shown with his mother and other saints in mourning) which play such an important role during Holy Week. Alexis's epitaphia show figures that are as Western as they are Eastern in form; they often depict a powerful, slain Christ lying alone, using a limited color pallet. Her angels, likewise, as an astute friend pointed out, may look Pre-Raphaelite, but their hands are hidden, Byzantine-style. Others of her textiles call on the lush color pallet of the great modernists she cites as influneces—for example, the densely stitched embroidery of autumn leaves—while looking as though they could be used as altar cloths. The lushness of the embroidery also calls on a strong Orthodox church sensibility. (Textiles play an important role in church and religious environments generally. In Orthodox churches—unlike in most Protestant houses of worship--they are especially lush, adorning hierarchs, clergy, and altar services and draped over the altar and icon stands.)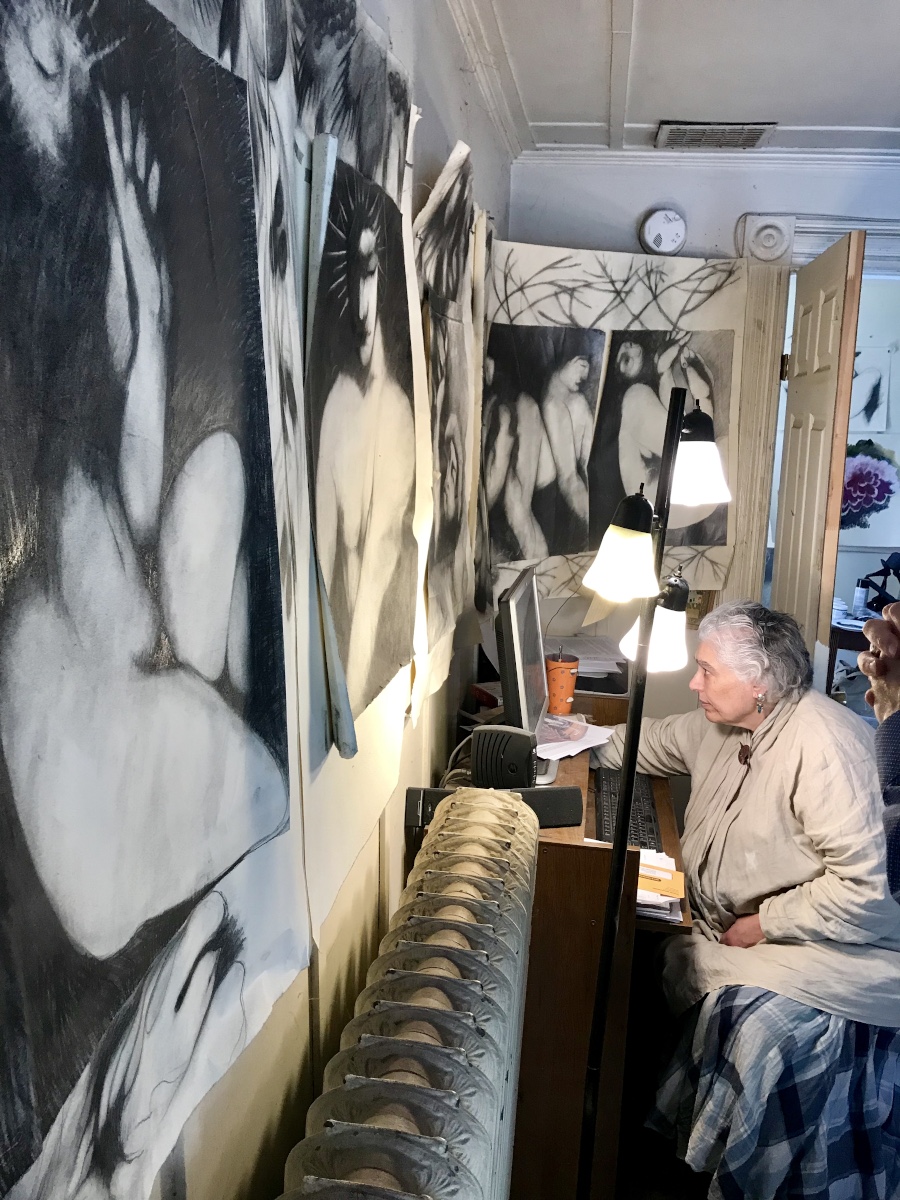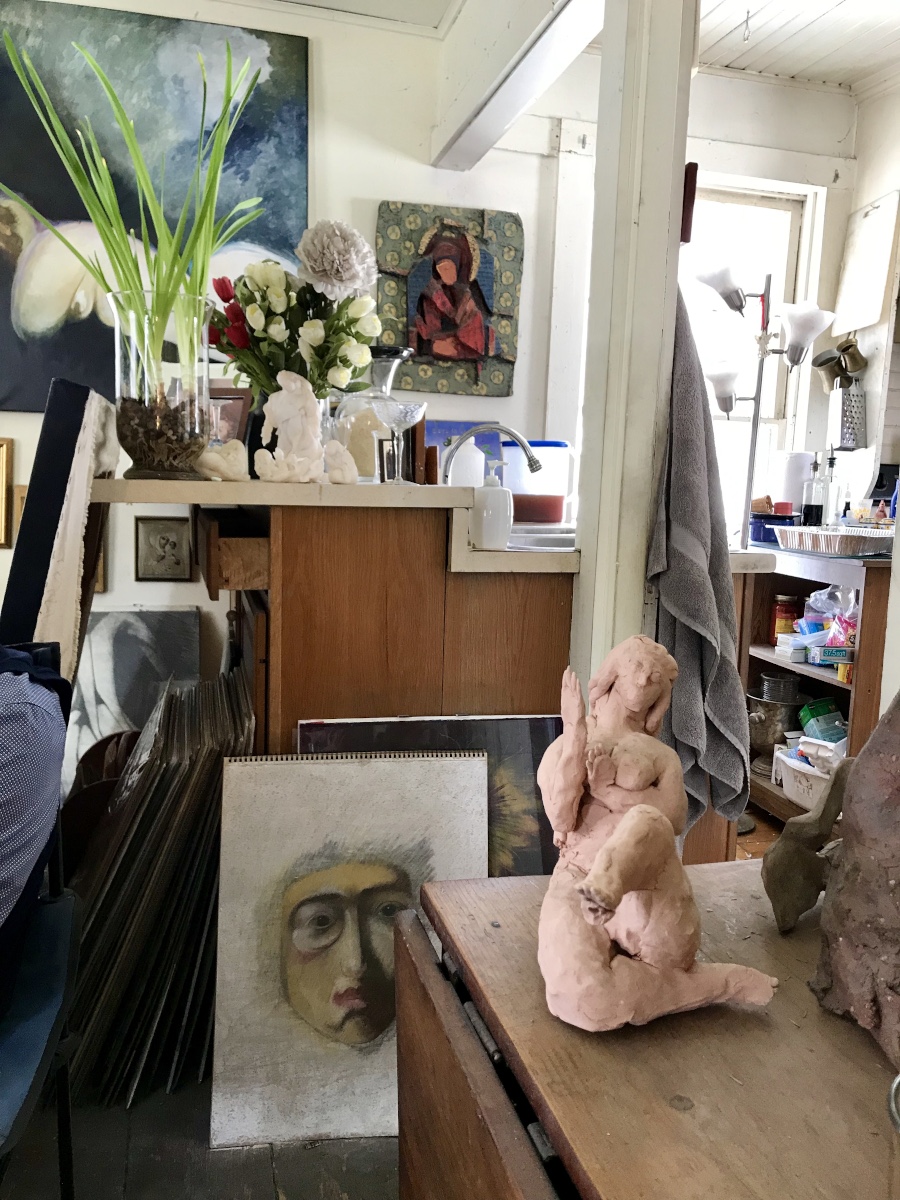 Byzantine icons have also influenced Alexis's fiber work. An Annunciation tapestry shows a Pre-Raphaelite angel Gabriel, framed by the words with which he greets the Virgin. Soon your realize that you—as viewer—find yourself in the place of the Virgin. Alexis has shifted your perspective to another time and place, and enveloped you in a holy moment.
Her drawings, in graphite or pastels, can be black and white human figures or brightly colored arrangements of fruits or flowers: http://www.alexiskyriak.com/drawings.html. Some of them have religious overtones, like the series seen here with Alexis at her computer; the pieces hung on the walls around her show Adam and Eve.
In addition to capturing beauty and depicting holy events, Alexis's art also serves another purpose. As she writes, "I was diagnosed with schizophrenia from the age of 18. The only thing I am able to do is my art. For thirty years I have labored, and grown both artistically and spiritually, and that has been an experience of healing that is total and ongoing. It is the vehicle of a turnaround that is extraordinary." As for a number of other people suffering mental illness, creating art allows her to be grounded. But even great artists like Van Gogh were unable to create when lost in the depths of their suffering. The making of art requires judgment, planning, training, concentration, and focus--and decision-making, which is grounding.
Many thanks to Alexis for allowing us a glimpse of her studio! Axia!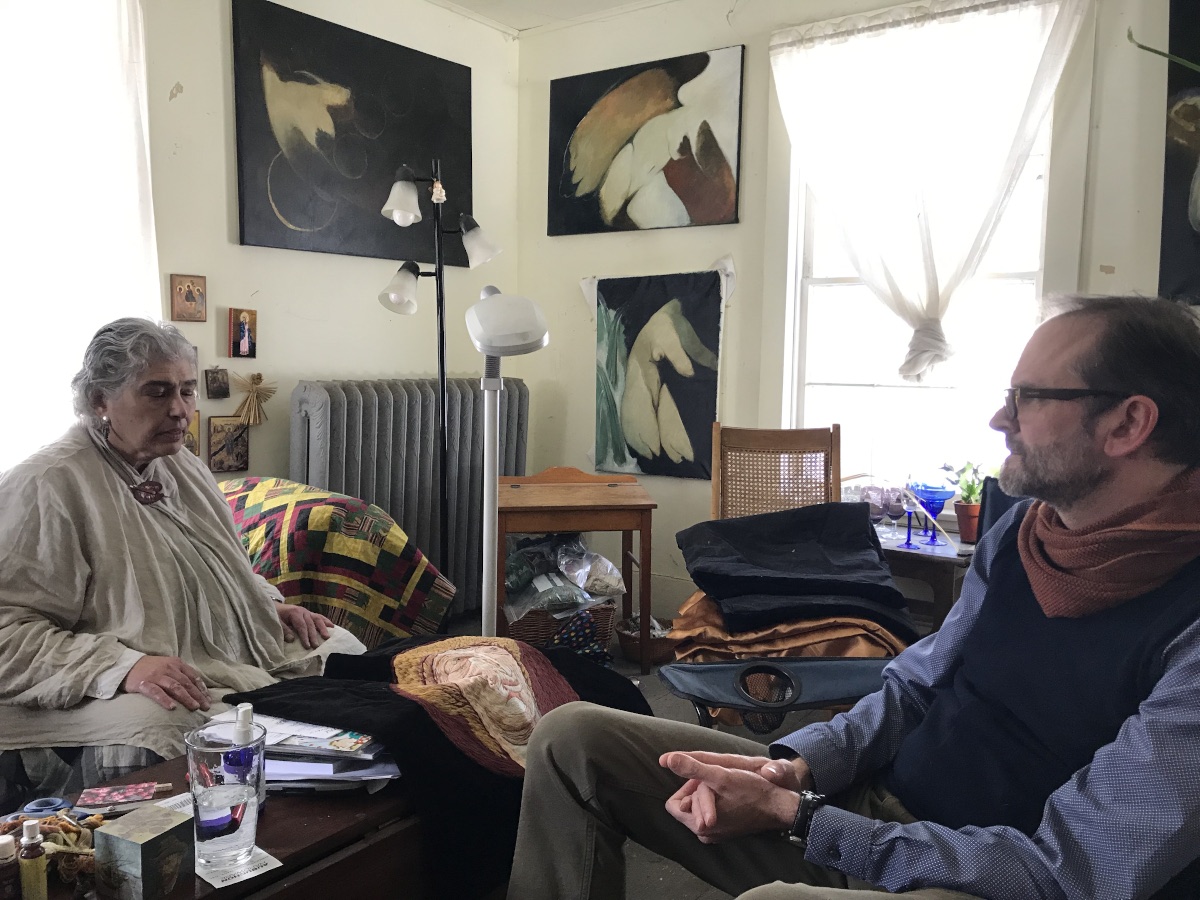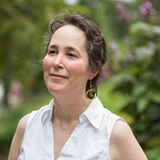 Patricia Fann Bouteneff is president of Axia Women.