Friday, July 10, 2020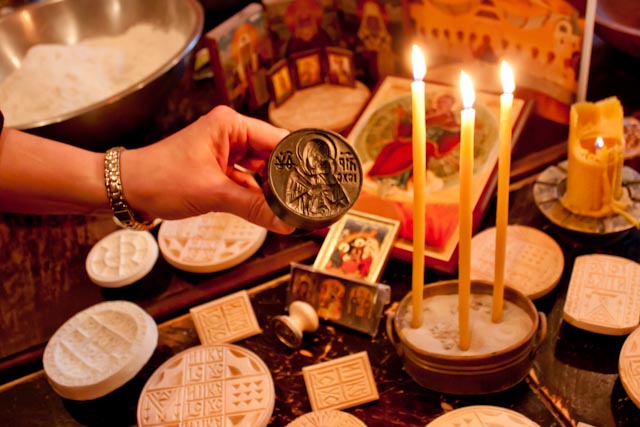 I first encountered "antidoron"—the bread distributed after Holy Communion— as a 17-year-old. I was spending the summer with the family of a priest in Patras, Greece, as an exchange student. He would bring home these big round loaves, stamped with an abstract design from his work at a local cathedral and they would slice it up and eat it with meals. It was blonde, rather coarse and dry, so I never asked for much. To me, bread was for toast or sandwiches; rice is what you ate with meals. But but this six-person family, living on a priest's small stipend, were glad to have it and went through several loaves a week.
Fast forward, seven years: my first taste of consecrated communion bread followed immediately on my baptism, in Thessaloniki, Greece, at the small aghioretic mission of Agios Haralampos. Fr Theonas invited me to one of the altar side doors and gave me a small spoonful of the reserve sacrament, in the form of bread and wine. He apologized that it had grown cold. I hadn't known it was supposed to be warm!
Since then I've worshipped at parishes with Greek-style bread, Russian-style bread, and combinations of both. I didn't think much about bread, however, whether sacramental or domestic, until my years as a graduate student, when I acquired a second-hand copy of Laurel's Kitchen Bread Book and absorbed the principles of superb whole-wheat baking. Suddenly, bread and breadmaking came alive for me, and began to take significant meaning. But I have never learned to translate excellence in baking for the family into baking for the church.
Turns out, there are different practices, that have varied over time. In most Russian-style parishes in the US, parishioners bake the prosphora (communion bread), while in many churches in Russia and Greece, they are either bought from a monastery or purchased from a large commercial bakery. But more than one person has remarked to me that, in pre-modern Russia, proskurnitsy (pious older women, often widows) were responsible for baking the prosphora and therefore—astonishingly--were numbered among the clergy and had the privileges of that social order. Also, the communion bread we make for the Church isn't supposed to look and taste like the Russian bread we make for our families. The standard for a good Russian-style communion bread is the opposite of a good home-baked loaf: tight crumb, few air pockets, thin soft crust, and little to no color. All of this so that it can be properly stamped, cut up during the preparatory service, and eventually cut for distribution, without crumbing.
When we look outside the Greek and Russian communion-bread traditions, we get some fascinating details. A priest and his wife who serve a Malankara community here in the US told me a little about their tradition and it became clear that the Indian churches have a beautifully developed liturgical theology around bread. As in the Greek and Russian traditions, Syrian-Malankara communion bread is made of wheat flour, salt, and water. The starter, however, sets the Indian prosphoron apart. Its origins have been lost to history. Their liturgical leavening must come from bread created for a previous liturgy. Making the bread with this kind of starter symbolize a connection with the Lord and the Last Supper—like an apostolic succession, expressed through living yeast. Each priest, upon ordination, is given some starter by a fellow priest. Because the starter is alive and, like sourdough, it can be finicky, it takes much practice to develop the craftsmanship that guarantees consistently good results. Malankara theologians connect the leavening not only to the Last Supper, but also to the manna that fed Moses's people in the wilderness. The loaf is stamped so that it is divided into 12 segments (for the apostles), four parts (for the four corners of the earth), and the host is pierced five times (for the five piercings of Christ on the cross). The leaven gives continuity and represents the incarnation of Jesus. The loaves are stamped with 12 sections, which means they can be cut into different symbolic shapes, depending on the liturgical season: a lamb, or a cross, or the resurrected Christ. The dough is always mixed up the night before the liturgy from the starter, flour, water, and salt by the priest or a senior altar server, and baked fresh for the service. In order to keep the starter in good health, the priest has to bake bread throughout the week, using supplies that he has set aside in a designated cupboard.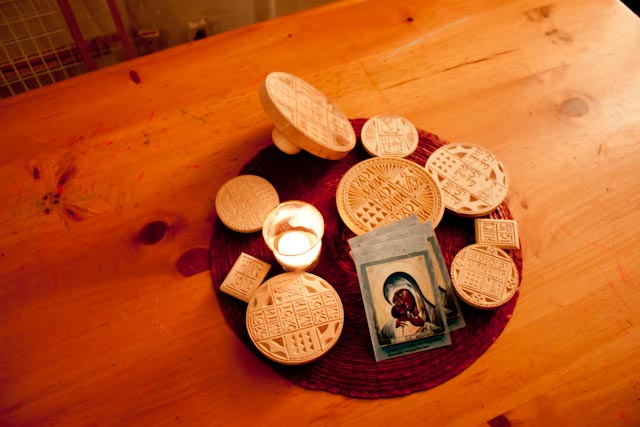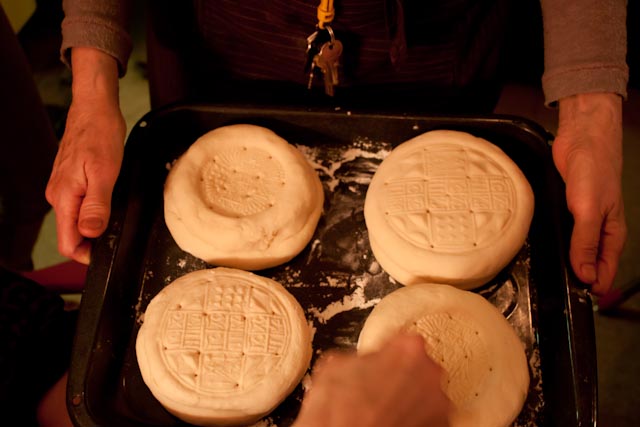 When we bake bread in our homes we do so with love and care, and often follow traditions left us by our own families and/or ethnic traditions. We find much the same case within the Church, where the bread for communion is prepared with profound love, with prayer, and according to specific traditions. The traditions surrounding communion bread can have practical intentions—a tight-crumbed bread is important to avoid stray fragments—and also may carry significant theological weight. Bread, for the home and for the Church, means a very great deal. And learning about each others' traditions and practices surrounding bread has enhanced my own appreciation of it!
The photos come from an evening of bread baking at Emmaus House in Harlem, NYC, circa 2011. I wish I could remember the name of our remarkable instructor: I used many of her principles as long as I was baking prosphora.
***I owe thanks to Fr Shiryl Mathai, Kochamma Asha Mathai, Dr. Nadia Kizenko and those who answered a query on her FB feed (Lidia Chakovskaya, Paul Drozdowski, Gabriel Monforte, Eve Levin, Christine Worobec, Heather Coleman), and Gregory Tucker. Any mistakes are my own!
Patricia Fann Bouteneff has been been baking bread for more than 30 years and is always up for a conversation about yeast, flour, or sourdough. She is also president of Axia Women.